History
A brief history of the Christian Church / Church of Christ in Japan
Condensed from missionary Mark Maxey's article in JAPAN MISSIONS, 100th Anniversary edition (1984)
Introduction
Any history written about our people in Japan must take into account all three strains of the Restoration Movement: Disciples of Christ/Christian Church, the Non-instrumental (or a cappella) church of Christ, and our Christian Church/Church of Christ. All three are intertwined and interdependent, especially in the foundational years.
This history considers only missionary activity. That leaves out the other half of the story of the faithful Christians, leaders, churches, and ministers of Japan. To know them in a prolonged, intimate way is to be proud to have learned from them and worked with them. They have served sacrificially and loyally in a basically hostile environment. Truly, they are God's beautiful people.
Disciples of Christ/Christian Church
The Foreign Christian Missionary Society (FCMS) of the Disciples of Christ was formed in 1877. The Charles E. Garst and the George T. Smith families were the first missionaries to Japan, both starting out in Akita Prefecture and the Garsts later moving south as far as Tokyo. The Disciples' work in Tokyo expanded rapidly to Fukushima Prefecture and to the cities of Sendai and Osaka. By 1940, Disciples churches and other institutions (including Drake Bible College opened in 1903) joined the Kyodan, the United Church of Christ in Japan.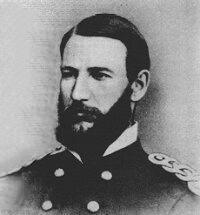 As of 1984, 16 former Disciples churches belonged to the Kyodan where all local ministers are appointed by Kyodan headquarters. Very old members of these churches remember their baptism by Disciples missionaries; and some of them recall when there were thriving Disciples churches at every major railroad stop between Tokyo and Sendai, 200 miles to the north.
Non-instrumental (or a cappella) Church of Christ
W.K. Azbill arrived in Japan in 1892 with a band of volunteers which included J. M. McCaleb, who stayed 42 years. McCaleb was a man of conviction who believed it was wrong to receive support from any organization and to use instrumental music in worship. He may have been "pretty hard to get along with. He was an autocrat with staying power." Although his plan for training young men in his home in Toshima Ward in Tokyo was ultimately not successful, the house has been preserved as a cultural monument.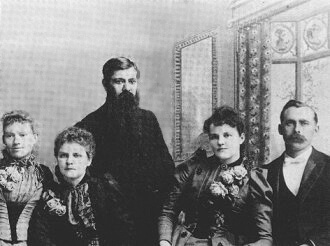 Eugenese Snodgrass was sent to Akita Prefecture by the FCMS in 1888 but pushed for relocation to Tokyo. A disagreement over organ music in the worship service caused both him and George T. Smith to be asked to resign from the FCMS. Snodgrass became an independent missionary in 1892.
B.D. Morehead started King's Bible School in Ibaraki Prefecture but could not get the language and was persuaded to return home to Tennessee. He became a one-man missionary society, recruiting missionaries from the mainstream Non-instrumental churches in the south.
Harry Robert Fox, Sr. and O.D. Bixler recruited a group of missionaries mainly from Harding College and also from related churches in the south. Until this time, both the college and the churches were anti- or non-missionary in stance.
Practically every denomination in the early days thought that founding educational institutions was one of the best ways to win Japan to Christ. Such institutions have consumed a great portion of the funds committed for evangelism without necessarily accomplishing that purpose. In the end, many of these institutions become operated by an administration and faculty which are mostly non-Christian, while the Christian influence that remains becomes symbolic. As of 1984, Non-instrumental Churches of Christ had 40-45 churches, mainly from Shizuoka to Ibaraki, with three benevolent institutions and two campgrounds.
Christian Church/Church of Christ
In 1889, Belle Bennett died in a boating accident in the Des Moines River the day before she was to go to Japan as a missionary. The students of Drake University raised $4,000 in her memory and asked for a missionary volunteer to go in her place. Loduska J. Wirick answered that call. She was the first independent missionary of our people. She primarily served Japanese soldiers wounded in the war with Russia and died of cancer in Japan in 1914.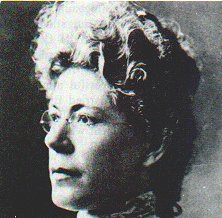 W.D. Cunningham made independent missions the standard for the Christian Church/Church of Christ. After his marriage to Emily Boyd in 1898, they applied to the FCMS to work in Japan with Charles Garst. They were ready to go when Cunningham contracted polio. His left side was greatly affected, and the FCMS said to wait a year. He applied again and was refused. After a final rejection in 1900, his mind leapt to a great truth: "God and the missionary society were not identical…. He would answer God's call." His wife agreed that they would go to Japan on faith, and they arrived in Tokyo October 1, 1901.
Cunningham began earning a living teaching English. He also acquired a strategic piece of property with a work called the Yotsuya Mission, which he built into one of the biggest independent missionary works our people ever had. In 1926 that mission had receipts of over $75,000 a year and was praying to receive $165,000 a year to employ workers, invest in land and buildings, and purchase furnishings and equipment. In 1922 the mission had six churches, eight out-stations and a training class for ministers in two locations. In 1924 Cunningham sent a worker to Korea, the first work done in that country by the Churches of Christ.
With the depression, workers left the Cunningham work: John Chase to Korea, Vivian Lemmon, Grace Farnham and Ruth Schoonover to Mabashi, Tokyo. Mr. Cunningham died suddenly while on furlough in 1936, and his wife returned to carry on the work with the help of Mr. and Mrs. Owen Still who later settled in Higashi Nakano, Tokyo.
Mr. & Mrs. M.B. Madden first came to Japan with FCMS in 1895 but resigned in 1914 because of the organization's autocratic methods, particularly in causing the missionaries to move around so much and for the organization's failure to back a policy of self-support among the Japanese churches. The Maddens returned to Japan independently in 1919, settling in the Tenmabashi district of Osaka. They eventually bought the property in Asahi Ku where Osaka Bible Seminary now stands. The Maddens had a vision of starting a Bible college to train preachers, and they invited Mr. and Mrs. Harold Cole to come to Japan for that purpose. Mr. Cole began the classes of OBS in April, 1937 and continued until interrupted by World War II in 1941.
The War Years
Many independent churches were unable to maintain their worship services with the privations of the war. When buildings were lost, the churches were lost. [According to the OPERATION JAPAN handbook 2000: "In 1941, responding to tightening government controls, most of the denominations severed connections with mission societies and formed the United Church of Christ in Japan." —LLP] Many of our Yotsuya Mission ministers had lost their vision of establishing non-denominational New Testament churches, and had no trouble joining this United Church of Christ in Japan, the Kyodan. Mrs. Cunningham said, "Many of our members were opposed to it, but were helpless to do anything. The members did not know they were in the Union until I discovered it and told them. They discharged their minister, but they couldn't get out of the Union." This meant, then, that the churches had come under the administrative rule of the Kyodan denomination.
In Osaka the war brought a complete loss of buildings, and most of the membership was lost by death and dissemination. A real hero in Osaka, however, was Bro. Hiromu Sugano, a devout Christian and retired Army captain. When the Madden mission was destroyed by fire bombing, he had a shack built on the property so that the land was occupied until the missionaries returned. If he had not done this, the property would have been lost.
As for the Non-instrumental churches during this period, most did not join the Kyodan but continued meeting in homes. Chiba at that time had two churches with a total membership of 600. The Kamitomizaka and Zoshigaya churches joined forces and their new minister led them into the Kyodan.
The Post-War Period
In January, 1947, the first to arrive after the war were Mr. and Mrs. Owen Still, who lived uncomplainingly in poverty in a small rented apartment in Setagaya Ku, Tokyo.
Harold Cole came back in March, 1947, and began holding classes again in a downtown building. M.B. Madden had raised $4000 for a repatriation fund which, being unused, was turned over to Harold Cole who built the Martin Clark house complete for that sum.
Before returning to Japan herself, Mrs. Cunningham recruited two more missionary couples. Harold Sims started the Nakano Church, the Mikawashima (Korean) Church and the Mejirodai Church in Hachioji, a Tokyo suburb. Andrew Patton started the Nishiogikubo Church and led Tokyo Bible Seminary (1948-1958, no longer in existence). Stanley Buttray joined later, starting the Kamiochiai and Yokosuka churches.
Mrs. Cunningham died in 1953 and, at her own request, was buried in an unmarked grave in Zoshigaya Cemetery, Tokyo. The Cunninghams' work proved to be the basis for a solid and continuing work in Tokyo in the post-war period.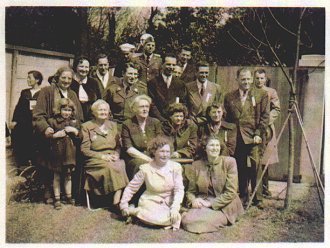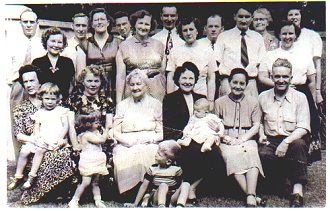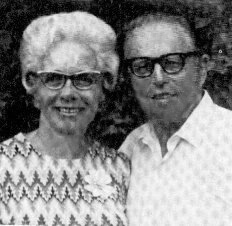 We Came in the Post-War 1940's When…
…Missionaries were few and famous. Mrs. Cunningham and Mr. and Mrs. Still had preceded us, and helped us very much in adjusting to the situation here.
…Almost everyone arrived by ship, bringing with them several tons of baggage, including much food.
…Two hundred dollars a month was considered standard and adequate living-link support.
…Japan was suffering from the shock of its first defeat in war and the great destruction from the bombing.
…And there were severe shortages of everything:
Fuel: I burned the crates our freight was packed in.
Electricity: Almost every night it was cut off for long periods.
Money: The official exchange rate was 50 yen to one dollar.
Housing: We lived in two rooms of a Japanese house.
Food: We lived almost all together on things we brought with us for the first winter.
Transportation: Every ride on the streetcars and electric trains was bone-crushing.
BUT: The Japanese people had their hearts open to the Gospel as never since. I fondly remember the joy and excitement of those days:
The floor of a home broke through to the ground under the weight of the large group gathered for the Christmas meeting.
1500 high school boys sat motionless on a cold gymnasium floor as I told them through an interpreter the true meaning of Christmas.
Many people requested that we begin a Bible study in their home.
Enthusiastic crowds filled the Setagaya Church building for Sunday night preaching services often held by candlelight with winter wind blowing through broken windowpanes for which there was no glass available.
Most missionaries who came in those days were still in Japan in 1984 and looked back with nostalgia.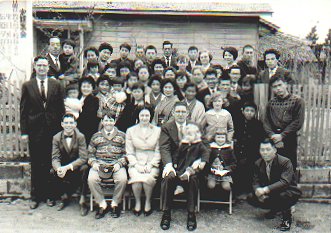 The State of Our Churches and Missionaries, 1984
by Mark Maxey
Practically all of our churches in Japan have their own church buildings and property. They conduct their own affairs and pay their own expenses. Not all have a minister full-time, or pay their minister full salary. Many ministers must support themselves with outside jobs, leaving them with less time and energy for evangelism. The favored method of self-support is to have a kindergarten in connection with the church. This can also be a method of evangelism, if used as such.
Japanese ministers are active in holding home meetings and regular Bible studies in outlying places. New churches, however, started by Japanese with their own resources and on their own volition and meeting every Sunday in their own places of worship are rare.
This is cause for concern. It should also be cause for reflection on the part of the missionaries. In teaching and in example, the missionary should be leading his Japanese counterpart in outreach.
Japan has been a major missionary interest for our people for 100 years. Since 1883 there have been only the war years, 1942-1946, in which we have not had a missionary witness in Japan. Even after the war, one of the most ferocious and deadly in history, our people were eager to both send and support missionaries to resume the work.
The Christian Church/Church of Christ has consistently sent to Japan missionaries remarkable for their dedication, preparation, commitment and staying power. Our missionaries have a remarkable record for living and working together harmoniously.
We have succeeded in attracting a substantial number of our sons and daughters back to Japan. The percentage of our missionary kids returning to Japan far exceeds that of any other religious groups in Japan.
The single women missionaries have served with dedication and have produced stalwart sons and daughters in the Gospel who are serving in the churches throughout Japan today.
In summary, I think the missionaries can claim a "Well done!" We have not done as much as we wanted or expected. But over the years a substantial work has taken place. May it be that those who follow us can stand on our shoulders and be able to see the "Promised Land" of a Christian Japan!
The State of Our Churches and Missionaries, 2002
by Lynn Lusby Pratt
In 1984 the Christian Church/Church of Christ had about 35 missionary households in Japan. Most of those were married couples or families, and all but one represented full-time missionaries.
While the number of households remains stable, only about half of them are long-term, full-time missionaries, because one-fourth rely heavily on other jobs (usually English teaching) to be able to remain in Japan; and one-fourth have committed only to short-term projects. And more of these households are made up of single people. So there are both less manpower and less man hours now than in 1984. On top of this, churches are hesitant to continue supporting missionaries in a country like Japan, where the cost of living is high and the rate of Christian converts has been low.
In 2002, the Christian Church/Church of Christ is also represented in Japan with 80-90 churches, Osaka Bible Seminary, and at least three camps.
Although the number of churches is up from 68 in 1984, many of these congregations are tiny (fewer than ten people), and over a dozen are without ministers. Most Japanese ministers continue to work other jobs in order to support themselves. These churches and their Japanese ministers are to be commended for persevering in a country where Christianity has not thrived. Outsiders can hardly imagine the difficulties.
Praise is certainly in order for those doing the Lord's work in Japan! But with huge evangelism responsibilities resting on the shoulders of a few, these few become over-extended and unable to devote time to recruiting and training new workers.
Say Yes To Japan began, with a cooperative Japan missions exhibit at the 1999 National Missionary Convention, in an effort to jumpstart interest in Japan. Our missionaries on furlough, as well as former missionaries and recruits, operate the exhibit, sharing Japan information with visitors.
2020 Update
As of 2020, our Japan missionaries/churches are busy, even beyond Sunday services. They're involved in children's ministry, family events, coffeehouse-type outreach, prison ministry, campus ministry, English-Bible classes, disaster relief, and so much more!